---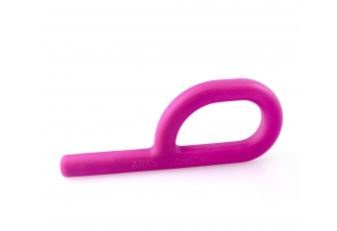 Ark's Grabber Chew
---
ARK's Textured Grabber® is an oral motor chew tool made out of the same soft, chewy, resilient material as our regular Grabber®. It features three different surfaces to chew on: one smooth, one with circular bumps, and one with rectangular bumps. These textures simulate the feel of actual food for realistic non-food chewing practice. They also add extra tactile sensation to the lips, cheeks, gums, and tongue to help desensitize the mouth, decrease decrease oral defensiveness/aversions, and transition individuals with sensory issues from puréeed to textured foods. The Grabber® can also be used:
As an oral fidget for sensory seekers craving stimulation and proprioceptive input
As a safe alternative to chewing on hands, knuckles, shirts, pencils, etc.
As an alternative to tooth-grinding and/or thumb-sucking
To exercise the lips, tongue, cheeks, and especially the jaw
To allow the mouth to learn and grow strong through oral exploration
To practice biting/chewing without the risk of choking
To build oral strength, mobility, and control
To satisfy the urge to chew for individuals who are fed through a g-tube
 ARK manufactures these chew tools in the USA! They're constructed out of medical grade, FDA compliant materials that contain NO lead, phthalates, PVC, BPA, or latex. They're also molded out of one solid piece of material with no holes or crevices that could harbor saliva or bacteria.
Caution: although these chew tools are made out of sturdy, medical grade materials, they are not indestructible. Some individuals (particularly those with heavy oral needs and aggressive biting/chewing) may be able to damage the tools. Please supervise at all times and replace if necessary when the item shows signs of wear and tear